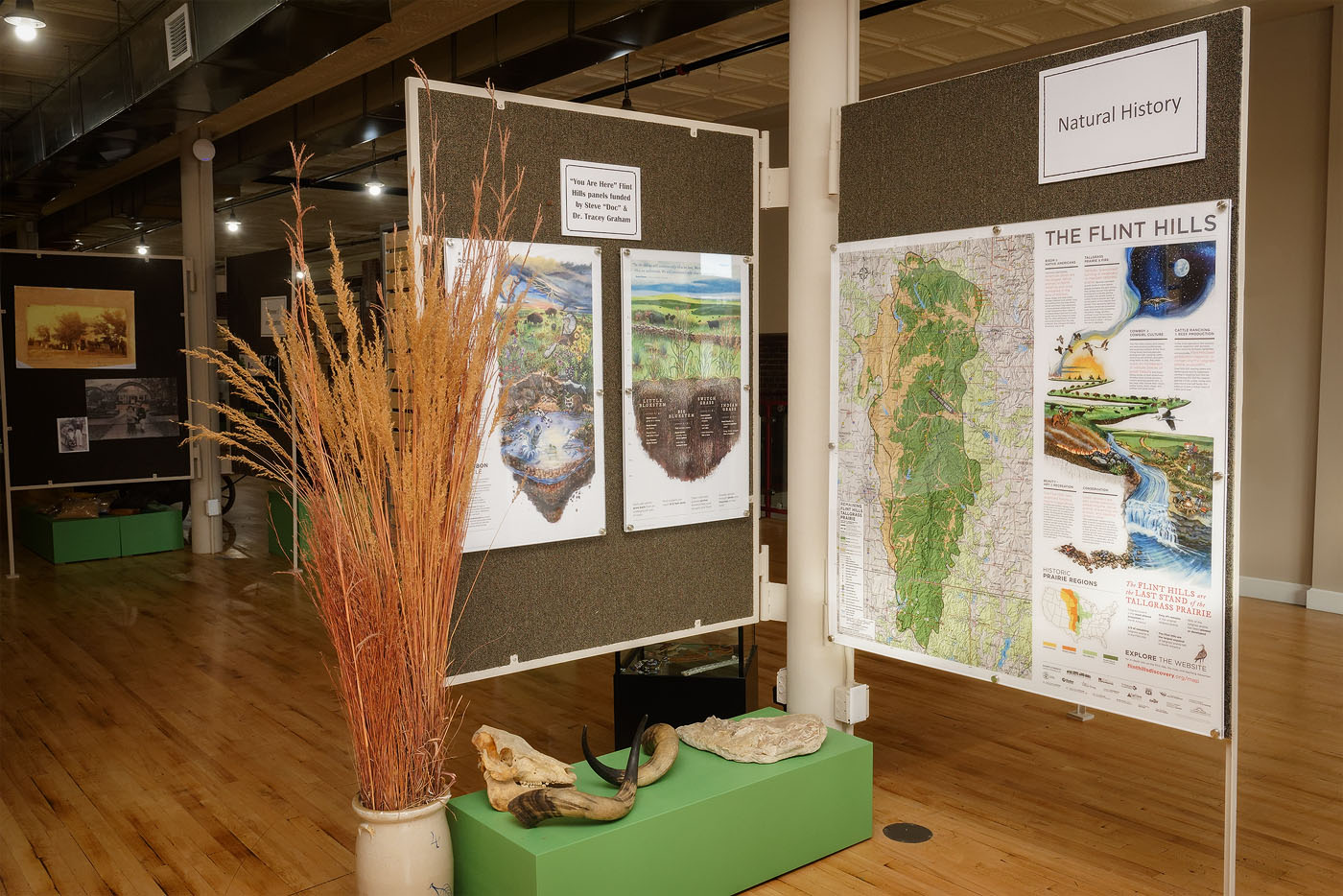 Exhibits
Exhibits include the following eight core themes:
Natural History – A Sense of Place. Explore the flora and fauna of this region and how humans live off the land by using natural resources for shelter, food, and industry. The Flint Hills and stewardship of the land will also be featured.
Native Americans – First Inhabitants.  Learn about the tools, culture and everyday life of Native Americans from the area.
Immigration – A New Home. Since the 1850s people have been making Lyon County and the surrounding area their home for a variety of reasons.  Explore the reasons the new residents chose this area and what life was like once they arrived.
Transportation –On the Move. From the power of a horse to horse power, people have been on the go for centuries. Discover how transportation impacted the settlement and industry of this area.  Special attention will be given to the railroad industry.
Farming – Seeds to Sow. Many early pioneers were farmers by trade. Learn about tools used for farming, different crops grown in this area and how farming has changed over the years.
Ranching – Have you Herd? Learn about the life of a cowboy, different cattle breeds and tools of the trade.
Business & Industry – How's It Made.  What is made and why. Explore the different industries that have come and gone in the area and their economic impact. Current businesses and industries in the area will also be highlighted.
Military/Veterans Day – A Grateful Nation.  Learn about different branches of the Armed Forces and explore the stories of local service men and women from the past and present. The story of Veterans Day and its connections to Emporia will also be featured.
Research Room & Archives
The Research Room & Archives houses a rich collection of Lyon County history, vital records, genealogy, scrapbooks, photographs, newspapers, and much more. Our staff and volunteers are eager to help you with your projects. Appointments are recommended if you are traveling. Please refer to our hours of operation before planning trips.
We charge a $10/hourly fee for research, plus the cost of copies and postage. Please include as much information as possible when submitting a research project. Research requests can be mailed to:
Research & Archives
711 Commercial Street
Emporia, Kansas 66801
Emailed to:
research@explorelyoncounty.org
Via phone:
620-340-6320
Howe House & Welsh Farmstead
315 E. Logan Ave, Emporia, KS 66801
This unique house, built in 1867 by Richard Howe, a Welsh immigrant stonemason, offers a revealing glimpse into the lives of ordinary people more than 100 years ago.
Three generations of one family called this residence home.  As the families grew and the generations passed a semblance of layering occurred as new was added while the old was retained.  Thus the house, its furnishings and its decor appears much as it has though the years.  One hundred and fifty years after construction it retains its near original appearance and historical integrity.
Eighteen inch thick limestone walls
Generous parlor fireplace
Black walnut woodwork
Native oak floors
Original furniture, china, clothing
Request a Tour of the Howe House & Welsh Farmstead